Shoe Construction Methods
Different construction methods for leather shoes
Blake construction, fully stitched or side stitched: if you love beautiful, top quality shoes, you're sure to have something to say on the subject. Far from being insignificant, a shoe's construction is key to its manufacture. The term construction refers simply to how the shoe is assembled, in other words how the upper is attached to the sole.
Blake construction
The preferred choice for a large number of models of Bexley shoes, Blake construction delivers a flexible, very lightweight shoe.

Blake construction is a simple sewn assembly well suited to elegant dress shoes: loafers, Derby shoes, buckled, or monk strap, shoes, and Oxford shoes. This technique involves attaching the upper directly to the outsole by stitching through all the layers in a single seam. This is why Blake construction or stitching is also called "single stitching".

Invented in 1858 by an employee working in a Singer Sewing Machines factory, Blake construction was named after the inventor of a machine to mechanise this method of assembly.

This simple technique is perfect for models of formal shoe featuring leather soles: that's why it's very common in our shoes.
Moccasin construction
Also known as "tubular construction", moccasin construction is used for the eponymous loafers, designed as a single piece of leather that encloses the whole of the foot. This construction technique offers maximum comfort while walking, preventing the feet from overheating as there are no seams on the bottom of the shoe.

With this technique, the leather comes up and over the front and sides of the feet, and is then sewn together at the top. This method produces very soft, light loafers that are both very comfortable and easy to slip on, making them perfect for summer wear.

We use the moccasin construction method for all our driving loafers and boat shoes.
Side stitched construction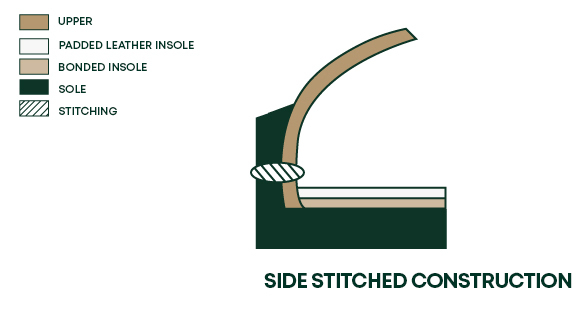 Side stitched construction is similar to Blake stitching, but designed for, amongst others, cupsole trainers.

With this construction technique, the sole is sewn to the upper at the side. As with Blake construction, it comprises a single row of stitches going through all the layers of the shoe, thus attaching the upper directly to the sole. This robust construction is nevertheless extremely lightweight, and perfectly suited therefore to casual footwear.

Take care not to mistake this technique for Norwegian welt (or storm welt), a construction similar to the Goodyear welt but requiring two lots of stitches: one horizontal and one vertical.
Cemented construction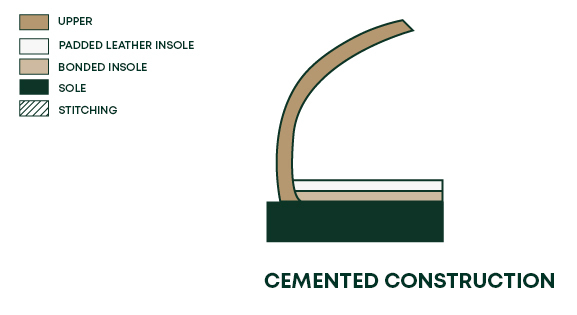 Cemented construction is another assembly technique that does not require stitching, as the sole is attached to the upper with adhesive.

This construction technique is particularly suited to lighter models, with less obvious soles. Here at Bexley, we only use this method of construction – which is the one most commonly used worldwide – for some of the trainers in our casual ranges, and a few models of rubber-soled dress shoes for winter wear.

Although some people swear by a sewn construction, a meticulously and precisely welded assembly, as performed in our workshops, is perfectly able to meet all your quality requirements.
Deep in our workshops
Blake construction
used on leather-soled Oxford shoe
Blake construction
used on rubber-soled boots
Side stitched construction
used on rubber-soled trainer