Men's jumpers guide
During the design of its pullovers, Bexley pays special attention to the stitch fabric that is used. It needs to be 100% wool in winter and a mix of cotton cashmere wool for mid seasons.
Dress according your own personal style and desire. You can choose between a round,V or zip collar and why not try out our stylish classic or palet colours
MATERIAL
To enrich it collection of pullovers, we at Bexley have made the choice to use a high quality stitched fabric. The density of knitting must be maximum in order to guarantee a product that will bear the test of time. Dyed yarn produces the colours found in the pullovers by knitting the coloured yarn rather than using a dye bath. This top-of-the-range process ensures a remarkable luminosity and a longevity of the different colours.
To adapt to each season, Bexley offers two different types of pullovers:
100% Geelong Lambswool, 2 ply
These 100% woollen pullovers use the noblest of pure lamb's wool originating from the finest breeds of young lambs in Australia, in the Geelong region . The result: a Jersey stitch of high density giving both comfort and heat during the winter.
Cotton cashmere, 2 ply
These pullovers cotton/cashmere consist of 95% Pima cotton and 5% cashmere. The fine stitching makes them the ideal mid season pullover.
---
COLLARS
V Collar
Round collar
Zip Collar
Zip Cardigan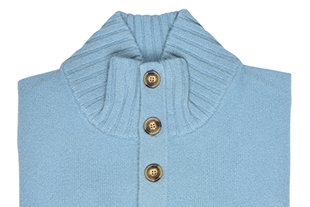 Buttoned Collar
Turtle Collar
---
RANGE
Bexley have opted for a straight cut for the majority of its pullovers. It is of course a stylish cut and very comfortable which makes it possible to wear your pullover on top of a shirt.
For a slightly broader cut, choose the Evan and Connor model which can also been found in a comfort fit.
---
TAKING CARE OF YOUR BEXLEY PULLOVERS
Bexley pullovers have been studied to offer you an optimal lifespan as they do not deteriorate after multiple washes still keeping their suppleness and softness.
We recommend however that you follow following instructions:
Washing by hand and in cold water is recommended, to preserve softness and the strength of the knitting. A very soft dry spin (without twisting) and then letting it dry on a flat surface, if possible on a wet towel, to avoid any risk of pilling and of deformation.
You can use a washing machine with a 30° wool cycle ironing inside out with the Iron set to wool (a moderately warm temperature).
Dry cleaning is possible.
The use of a tumble dryer is not recommended.