1 pair 159€
30€ off any 2nd pair of dress or casual shoes
At Bexley, when we create our shoes styles and select materials, we do everything to ensure you get optimum quality men's shoes. We cater for therefore a wide range of products for you to choose from, richelieu or derby, drivers or boots, suede or leather shoes,
English style shoes or rather Italian, a traditional well dressed style or more modern. Our men's dress shoes are created using calfskin, an extraordinary, luxury material that adds elegance to these top of the range shoes. The full-grain, aniline, calfskin leather used on our men's formal shoes reveals the material in its natural state and features a particularly fine grain. This is why we carefully select our leathers and work with the best tanneries, often those with worldwide acclaim.
Read less...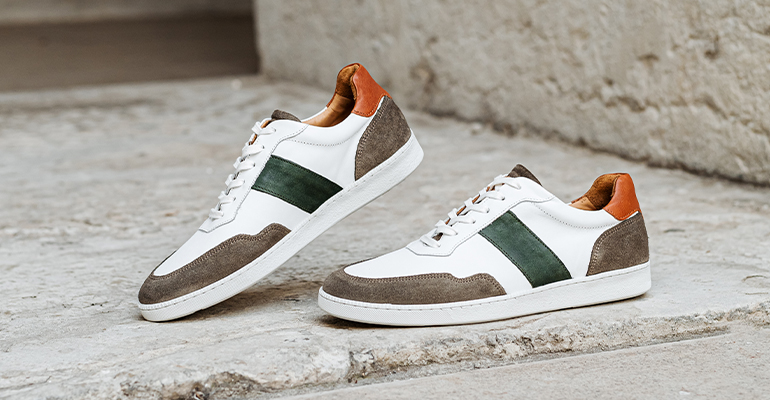 1 pair 109€
30€ off any 2nd pair of dress or casual shoes
Bexley men's casual shoes are perfect for adding a hint of elegance to casual attire. Discover our range of men's casual shoes: sneaker shoes, moccasins, boat shoes or drivers for a cool relaxed look. Some styles are made in the softest calfskin cuts, selected from the best quality leather available.
A superior material which is supple, comfortable and easy to maintain as it undergoes an anti-stain treatment. Lastly, you'll also find casual shoes, ankle boots and boots in nubuck, a smooth, velvety material that's particularly hard-wearing.
Read less...
Enjoy batch discount

Our models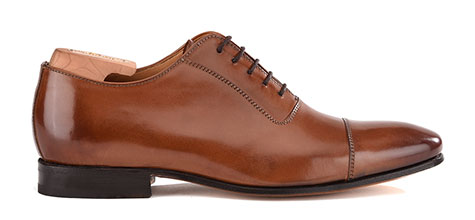 Oxford shoes
Men's Oxford shoes or brogues are a low shoe whose vamp is attached to the quarters. The lacing is "closed" on brogue shoes. Oxford shoes are laced through eyelets on the vamp.
Oxford shoes also feature a V-shaped opening and have a finer, more formal design than Derby shoes. If you have a high instep you'll prefer the more comfortable fit of a Derby. Oxford shoes are also called brogues in the UK and are available in three main styles: plain toe, cap toe and wingtip. The plain toe version is a design made from a single piece of leather, like our Bellagio and Peter bestsellers.
Read less...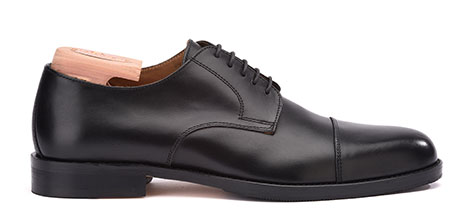 Derby shoes
Men's Derby shoes are shoes that are cut low or around the ankle with quarters that come together on the vamp. Note that the lacing is "open" on Derby shoes.
The eyelets are positioned on two sections sewn onto the vamp, so that the front part of the quarters is free, so you can get them on more easily. Derby shoes for men are available in the following styles: classic, cap toe and wingtip. If you have a high instep you'll prefer the more comfortable fit of a Derby over an Oxford shoe.
Read less...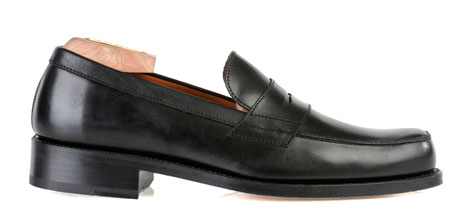 Loafers
Loafers for men are light, flexible low shoes without lacing whose origins go back a long way. They come in various different versions, the most common being made of a single cut of leather
with a circular seam that follows the line of the toes at the front. Loafers may feature extra details on the upper or fringes. When they feature a leather sole, they are more formal, like our Wembley penny loafers. If they have a rubber sole, they're called driving loafers.
Read less...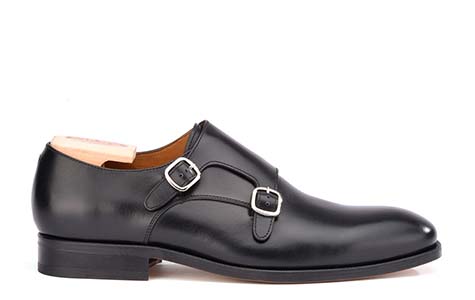 Buckle shoes
Men's Buckle shoes are based on the classic design of an Oxford shoe but denoted by their unusual fastening formed by a large leather flap that does up with one or two square metal buckles.
Along the same lines as Oxford shoes, they will make you look elegant on any occasion. The Chigwell is a two-buckle shoe and the bestseller of our range.

Read less...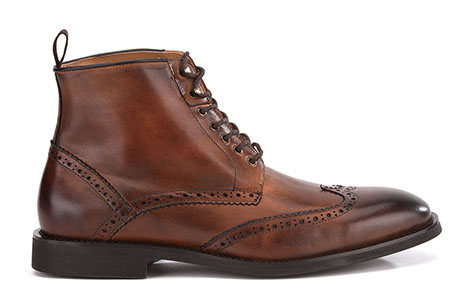 Boots and ankle boots
Men's boots include various types of shoes. This is a general term that refers to high-top Derby shoes with laces or elastic band. They are very appropriate for autumn & winter time.

We refer to them as "Ankle boots" when the boot is above ankle height and has lacing. The Charing and Enfield are the bestsellers in our range of rubber-soled ankle boots.
Read less...
Chelsea boots
Chelsea boots are men's ankle boots without lacing and with large elasticated sections on the side so you can get them on easily. They stand out for their classic, understated lines.
The Dawson and Bergame models are our most iconic boots from this category.
Read less...
Driving loafers
Immediately recognisable from its studded sole, driving loafers are one of the essential mainstays of our casual leisure shoe range. Loafers shoes are ideal for medium and strong forefoot.
Originally a men's driving shoe known for its suppleness and flexibility, loafer shoes are now often worn in urban settings due to their comfort and lightness, such as our Biscayne, Ferguson and Seacrest driving loafers' models.
Read less...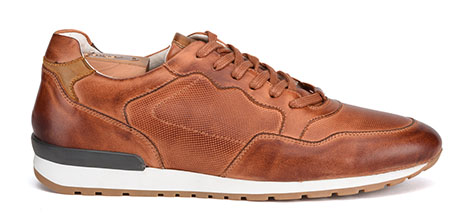 Sneakers
Men's trainers are casual laced shoes, a smart version of traditional trainers, usually designed for sports use. Trainers are light and comfortable,
and a real favourite these days for casual chic looks. The Inglewood and Canberra models are the bestsellers in this range, and you can also have a look on our high-top trainers Hawthorne.
Read less...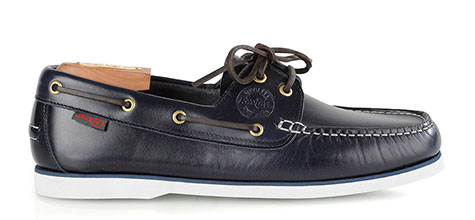 Boat shoes
Boat shoes are seasonal Derby shoes with a timeless look for sunny weather and featuring a platform identical to driving loafers. They are often unlined and characterised by their white soles.
They are made of high-quality, water-repellent leather or suede. Initially worn by sailing enthusiasts, boat shoes are now welcome in town to bring a casual chic look to your outfits.
Read less...
Our guides & tips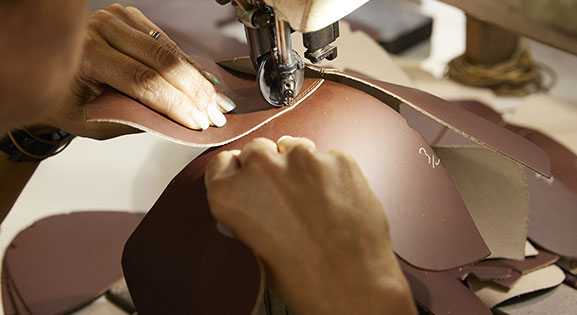 How shoes are manufactured ?
From the first design to the finishing touches, discover all the different steps involved in creating an authentic, top quality leather shoe.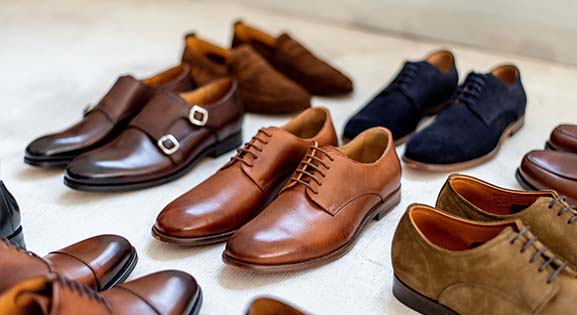 How to choose a pair of dress shoes?
Oxford shoes or Derby shoes, smooth leather or nubuck, leather or rubber outsole? Check out our comprehensive guide and you're sure to find the right shoe for you.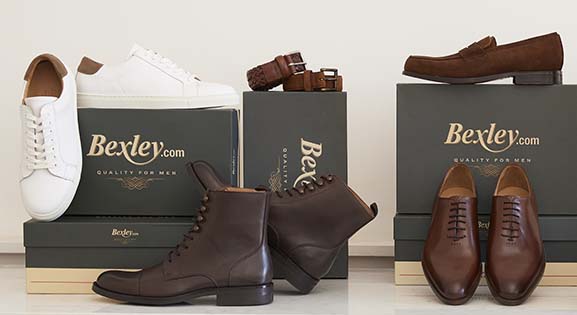 The 6 pairs of shoes you can't do without
Discover our great traditional styles, our classier models, and our timeless, English Derby shoes, that just never go out of fashion – You will always look impeccably stylish and faux-pas free.